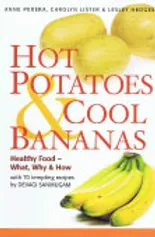 Hot Potatoes Cool Bananas
The title may sound interesting, although it does not necessarily reveal what the book is all about. Published in 2007 in Singapore by SNP International, Hot Potatoes and Cool Bananas is a book that is recommended to people who are interested in getting the best out of the food while enjoying them.
Dr Anne Perera initiated writing this book while living in Singapore and got the renowned Singaporean Chef, Devagi Sanmugam to provide recipes. Anne continued the book project after returning to New Zealand, with significant contributions from two of her colleagues, Dr Carolyn Lister and Ms Lesley Hedges, who worked at Crop and Food Research in the area of Phytochemicals.
Hot Potatoes & Cool Bananas focuses on the important link between diet and health. It emphasises the benefits of consuming a daily "balanced and varied diet rich in phytochemicals", found in abundance in fruit and vegetables, and which provide antioxidant and anticancer properties. The book comprises three introductory and four concluding chapters relating to nutrition, and seventeen chapters on fruit and vegetables. Seventy exotic recipes highlight how healthy yet delectable meals are realised using the ingredients featured.
Dr Ong Kim Lian who reviewed the book on behalf of SIFST (Singapore Institute of Food Science and Technology) says, "Here is a book that presents technical information in its simplest and concise form." She continues, "On a personal note, this book has lived up to its ideal of being a handy reference guide for every family. The book should also be suitable literature resource for young students in food science and technology, both at the school and tertiary institution level."